I'm posting this a little early tonight because I really just want to sit, read, and relax tonight. Some of my new friends are already in Miami. Some are on their way as I type this. Others will be arriving over the next 36 hours or so. Miami is going to be swarming with Blockheads and I couldn't be happier about it!!! I just can't wait to get there myself.
Today, I unpacked (mostly) and repacked my bag. I also took pictures that I'm now going to share with you. I started with a standard-sized carry-on bag. It is 21 x 14 x 7. Let's begin with odds and ends…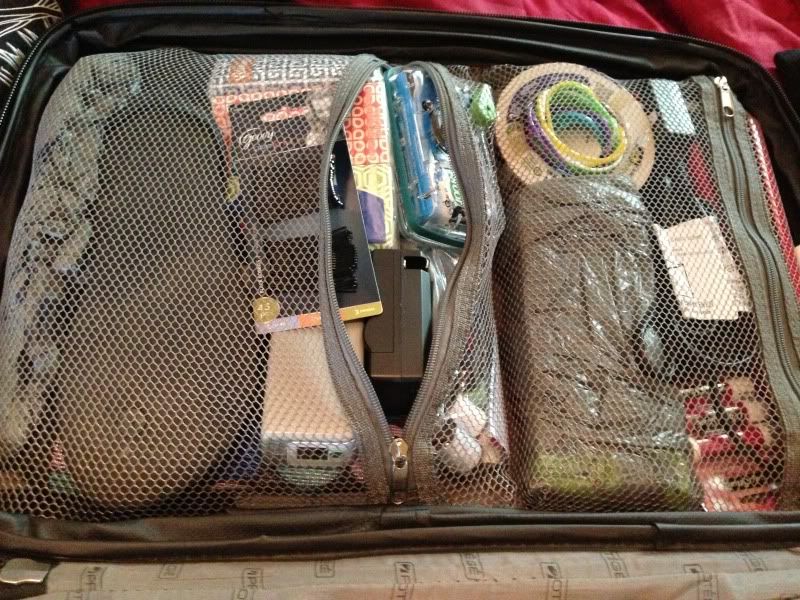 This first image includes my various assorted things. My beach bag, extra camera batteries, charger, flip flops, disposable camera, and other things, all found their way into those two pockets. I have chapstick, chewing gum, bobby pins, and plastic bags. There's masking tape for my door decorations. I have tissues because, well, you never know. Also because you never know, I have some thread and two sewing needles. I'm sure there's other things in there, but I can't remember what all I threw in there. (my list is in my bedroom)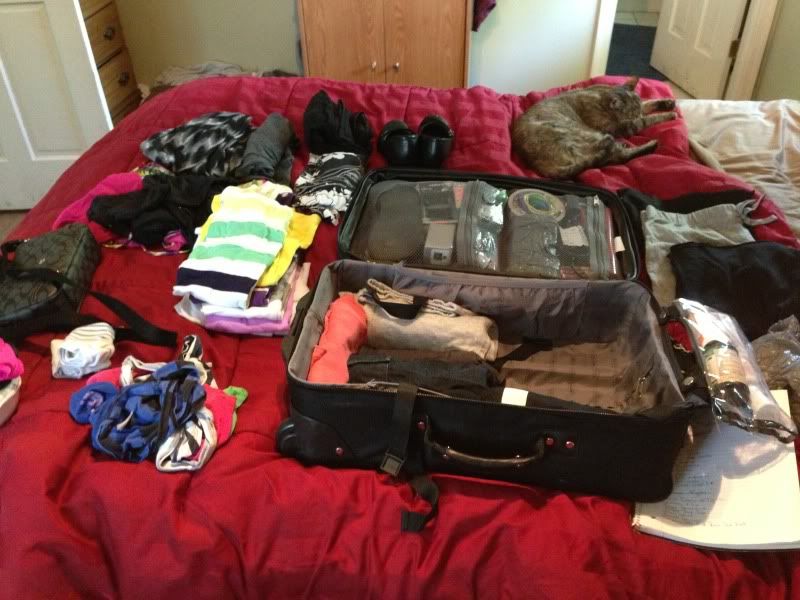 Here's what I packed, mostly all laid out. I have shirts, shorts, shoes, under garments, etc, all laid out there. Already in my bag are my theme outfits.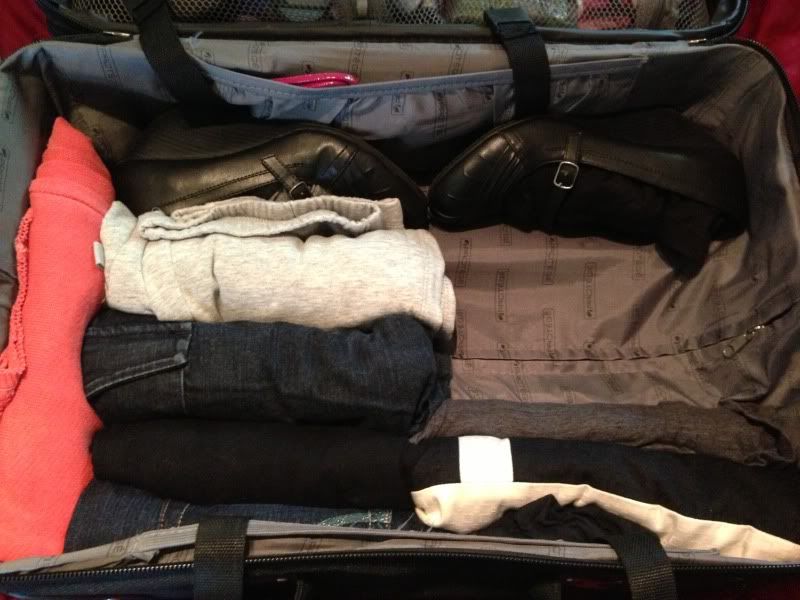 Here's my theme night stuff with my shoes for Retro Red Carpet and possibly the meet and greet. Inside the shoes, I shoved my cotton shorts. Space is at a premium, so I tried to use every available centimeter of space I could.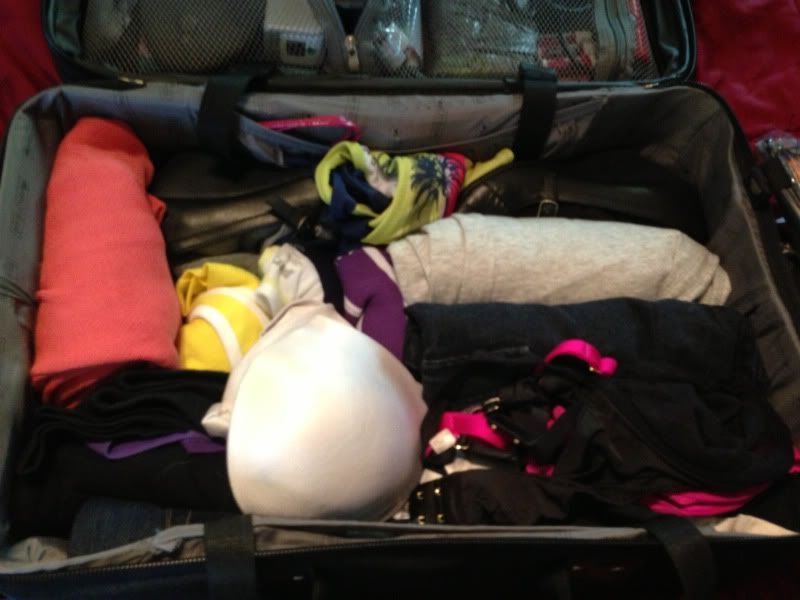 After my shoes were in, I started with my shirts, sundresses, and cover-ups. Pressed on top are the bras I'm bringing with me. Between the toes of my shoes is one of my bikini's that I'm bringing. I'm also packing a small purse for deck parties…but whether I use it or not is yet to be seen. In it, I rolled up my underwear, put in my socks, and managed to fit my two other bikinis!!!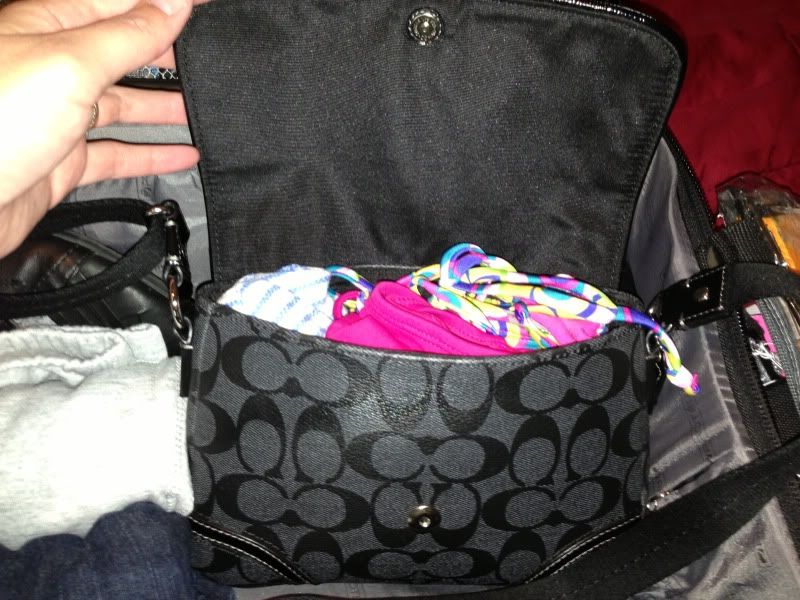 See??? After I filled my purse and situated it in my bag, I added my comfy flip flops and tied everything down. In the front pockets I placed my door decor, a few odds and ends, and the requisite 3-1-1 bag. Inside the suitcase, I have three or four gallon sized Ziplock bags that I intend on using like Space Bags. Even without that, though, there's still some room for souvenirs. You wanna see???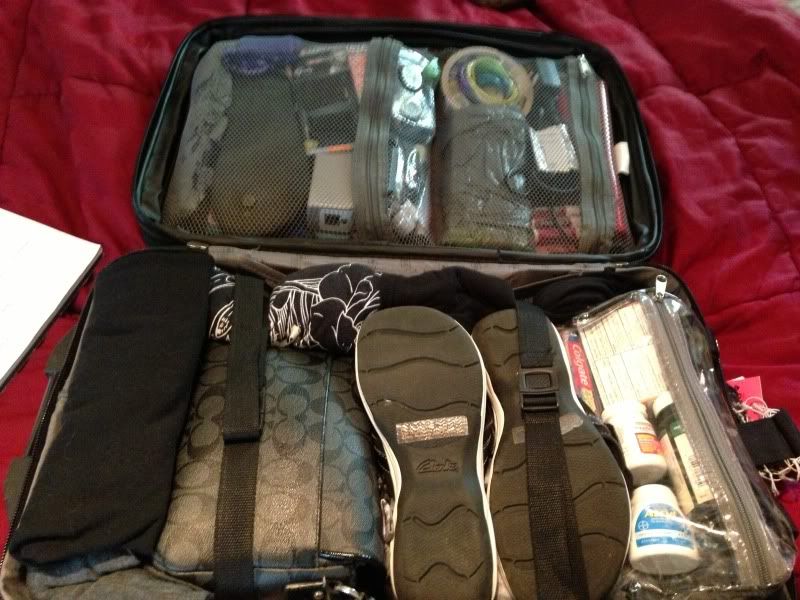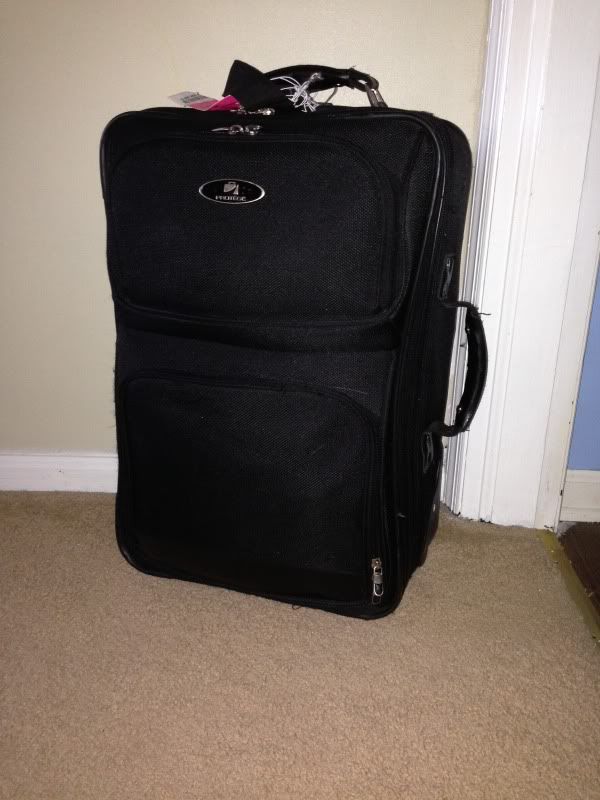 I printed my boarding passes for my flights down. I'm all checked in. I have my boarding pass for the boat, too!!! (It was just that one page, right? That and the luggage tag???) The only things I still need to grab in the morning are my phone, charger, and my prescription medication. My kindle is charged and in my purse with its charger. My passport is in my purse. I think I'm ready to go! I'll get up in the morning, attempt to eat breakfast, and see my big kids off on the school bus. Then I'll relax with my youngest for a few minutes while I drink my coffee before getting a shower and straightening my hair.
It still doesn't feel like I'm leaving in the morning. It feels like it's happening to someone else and when I wake up in the morning, it's all going to be a dream. I'm not sure how many of my regulars are even reading this right now as I prepare for the cruise, or how many are reading it after we all get home from the trip. I don't know if I'll update this blog at all before Wednesday night, but I'll try to. To those traveling, I hope your flights are safe and you all make it to Miami in one piece and with all your luggage intact! I hope you all have an amazing time on that boat!!! I hope to meet you all!!! If you see me about the boat, stop me and say hi!!!
Here's to an amazing trip!!!